Regular price
Sale price
$48.00 USD
Unit price
per
Sale
Sold out
Return Policy

REDUCING WASTE | NO RETURNS

We care about doing our part to be aware of how we are contributing waste in our landfills. Products are made to order and non-returnable.
Mabuhay Ka (to live, come to life/ manifest) Likha (create) Tubo (grow) 

These sun-burned bamboo beads/ wooden pieces of ancient script (baybayin tagalog & basahan bikol) & sacred geometric patterns are sun etched affirmations & activations that aim to co-power the holder within themselves & their connection to their ancestors. Infused in the beading are cowrie shell & crysacolla stone. Follow their works on instagram: @BukoBomba


NOTE: With the nature of sun-engraving in this process of creating these jewelry-Due to autumn /winter season of rains, wildfires- orders may take up to 2-3 weeks to make according to permissible clear sky conditions. 
📬 💌 📣 PLEASE NOTE SHIPPING JEWELRY: $20 for INTERNATIONAL SHIPPING. this website only includes DOMESTIC SHIPPING IN U.S. 
The creation of solar sun-burned pendants / amulets / earrings / so(u)lar agimats: Upcycled bamboo wooden beads are solar burned using the energy of the Sun. Designs are a variety of custom made invocations, affirmations, prayers, power, and soular love vibrations in the form of ancient pre-filipino script called baybayin (tagalog), kulitan (kapampagan), and basahan (bikolano). Each piece is unique, burned and activated with the highest vibrations and best intentions. 
Here are some words we have already solar burned/activated and ready to be customized for you. If you are interested in a word or phrase not listed, we can make it for you by request.
BAYBAYIN - ancient prefilipino script
Astig - badass, cool
Bahala na - leave it to Creator
Binhi - seed
Bukas puso - open heart
Diwang malaya - free spirit
Diwata - goddess
Ganda - beauty
Kapwa - myself in the other
Kagandahan sa loob - inner beauty
Kalikasan ipaglaban - fight for Mother Earth
Lakas - strength
Lakas loob - inner strength
Likha - create, creation
Mabuhay Ka - may you live/ manifest/ come to life
Makibaka wag matakot
Mandirigma - warrior
Masakit na masarap - painfully delicious
Matalino - smart
Musika - music
Musikero - musician
Pagibig - love
Pakiramdam - feeling, intuition
Tagumpay o matay - victory or death (Heneral Luna inspired)
Tamis anghang - sweet spicy
Tubo - grow
KULITAN - ancient Kapampangan script
Biní - seed
Bulan - moon
Kaluguran - beloved
Lugud - love
Maliari - moon / to happen
Malagu - beautiful
Masanting - good looking
Matapang - brave
BIKOL BASAHAN - ancient Bikolano script
Magayon - beautiful
Makusog - strong
Oragon - multiple meanings only Bikolanos know
LINGLINGO - symbol of fertility, abundance


inscriptions of #ancestralscript #baybayin #sacredgeometry #patternsoflife #diwa_ink #solarart #solarpyrography #folkart #shell #citrine #agimat #amulet #spiritwear #gintoseed #magicpekpek #pekpekpower #focushocuspocus #kahoykalayaan #kawayankapayapaan  
Share
View full details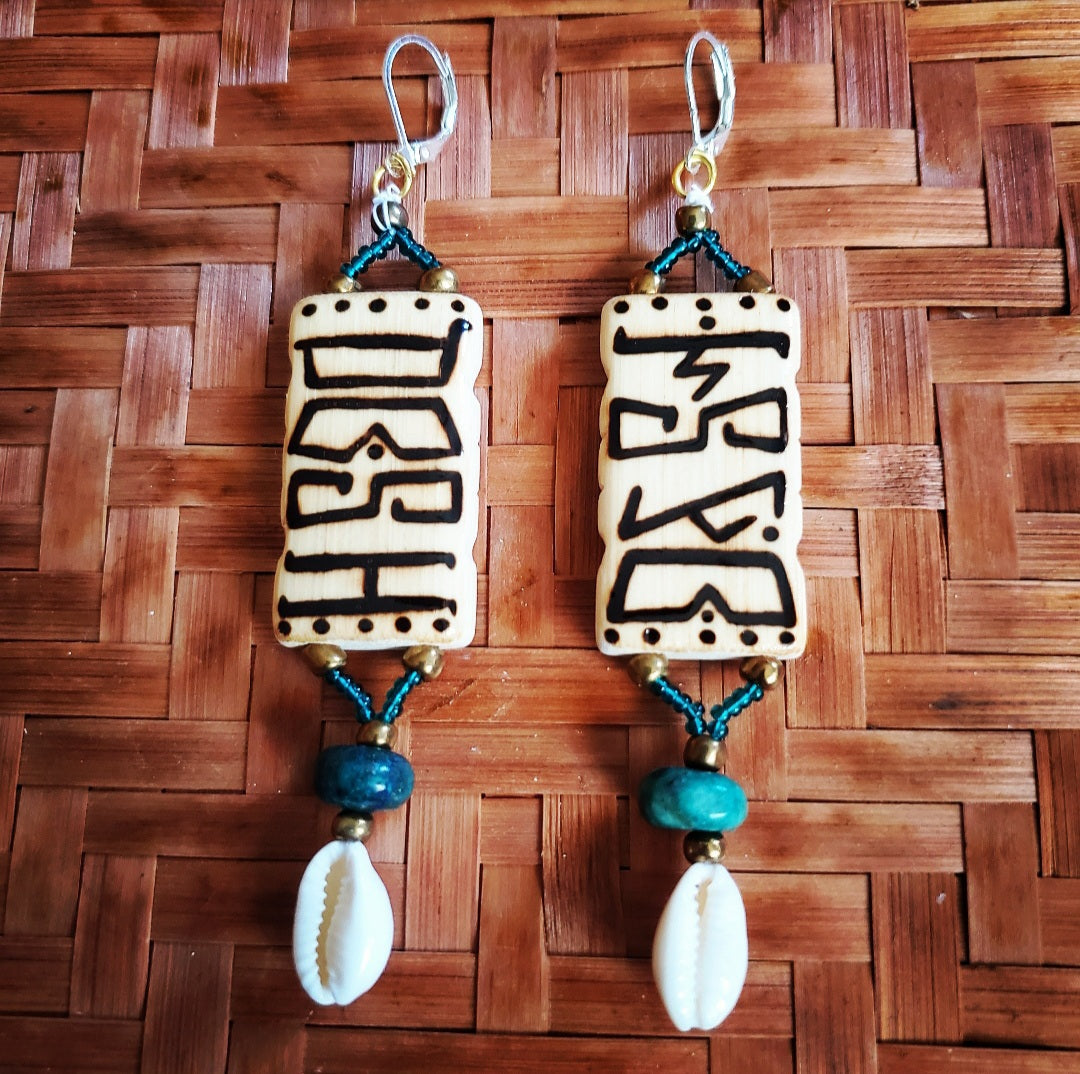 REDUCING WASTE | PRODUCTS MADE TO ORDER

We care about doing our part to be aware of how we are contributing waste in our landfills. Products are made to order. Products that are made to order takes some time. We appreciate your patience.

SELECT YOUR SIZE | NO RETURNS

All products are *Final Sale* and *Non-Returnable* since they are made to order. Please see included the measurements in the descriptions or photo of the items. Please take the time to see what SIZE you are looking for and what fits best.